October 4th, 2017 by Magdalena Tabor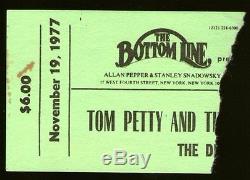 In March of 1977, I was just 22 years old (Okay, do the math, if you must).  My friends and I regularly frequented a favorite music venue, now defunct, called The Bottom Line in NYC's Greenwich Village. I can recall many a sleepy drive home to Queens in the wee hours through the Bowery in that white VW convertible after an exhilarating show, nary a soul in sight.
On this particular evening, we were introduced to an unknown artist by the name of Tom Petty, the opening act for a famous guy, that has seemingly slipped from memory. So I did a little digging through the archives, and lo and behold, it was none other than Mr. Roger McGuinn. Now how could this be? Forget Roger and remember somebody nobody knows? It seems Tom had made a lasting impression. But it wasn't his music I remembered that night.
Music freaks of the ultimate kind, we always made sure to secure a good seat by being among the first to get to the doors in front of a long trailing line of attendees. It was always general admission and the club, being a small venue, ensured that no matter where you sat, you would get to see the performance all right. But we always managed to sit at a table directly in front of the stage. Luckily, that night, there were no beers yet purchased to spoil what happened next.
Well, out walks this scrawny blond guy setting up his equipment, and I remember thinking, who's he? No one had ever heard of him before. Then suddenly, he topples the microphone stand directly on top of our table. How's that for starters? Maybe it was opening night jitters.
I honestly don't recall another single thing, not the music, not whether or not I liked him, not even poor old Roger McGuinn who I love and adore.
But right after that night, everybody, and I mean everyone, had heard of Tom Petty and the Heartbreakers. His career debuted and just took off. For whatever reason, I always remember him as the guy whose microphone stand fell on our table.
With the passing of Tom Petty, little did I realize how many wonderful songs were penned and performed by this amazing and gifted artist. What a long way we've come since those cherished  and rebellious days of our youth. And to know that, even now, we can choose any song, anytime we please, and be catapulted back to that long ago era.
I'm right there. Center stage. Microphone stand crashing to the table. A blip in time forever encapsulated. A moment in Tom Petty's life that everyone, even he, forgot. All…. except me.