May 4th, 2017 by Michael Tabor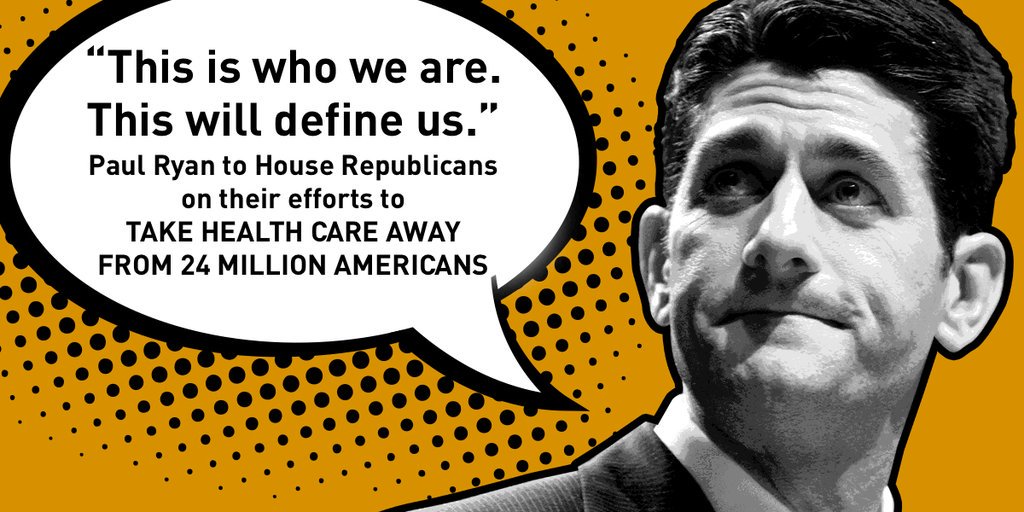 I'll begin this blog with a tweet by John Fugelsang: "Healthcare Republicans just took healthcare away from American children with cancer but it's ok they're so pro-life.
So the House achieves a NARROW victory by repealing Affordable Healthcare Act. 217 spineless Republicans in the House voted yes. In my heart of hearts, I don't believe a single Republican who voted YES did so in good faith. Pandering, partisanship, and sheer cowardice prompted these sycophants to vote YES . Anyone and everyone who knows anything at all about the healthcare system in this country knows that a repeal of Obamacare will be absolutely disastrous to ALL living in this country. The consequences are unfathomably far-reaching.
I'm just going to itemize a few salient effects:
·        23 million people in this country will immediately lose coverage.
·        And of course the super-rich will get their huge tax cuts – somewhere along the lines of $195,000 – or a total of $2.8 billion and on the flip side, the poor and the middle class will lose tax cuts of around the same amount – $2.9 billion actually.
·        The Affordable Care Act and Universal coverage will be replaced with what our illiterate President says is "something terrific."
·        Tens of thousands of people will DIE due to lack of access to medical care. The Trumps and everybody else in congress have no skin in the game. Their healthcare coverage is not in jeopardy + that juicy tax cut!!!
·        About 1.4 million young adults who are on their parents plan will be gone.
·        12.3 million people on Medicaid – also goodbye.
·        This is scary. The pre-existing condition ban will be lifted which will result in an estimated increase of 52 million more people uninsured.
·        Premiums invariably will skyrocket, as high as 50% within 1st year of repeal and doubling afterwards.
·        Here is something people don't think about. No healthcare also = slashing jobs – about 2.6 million people currently working in the healthcare industry will be jobless.
So WhaDaYaThink? What do you think? It's not over yet, so be hopeful. It's not going to be a cakewalk for the republicans to get it through the Senate.