April 14th, 2017 by Michael Tabor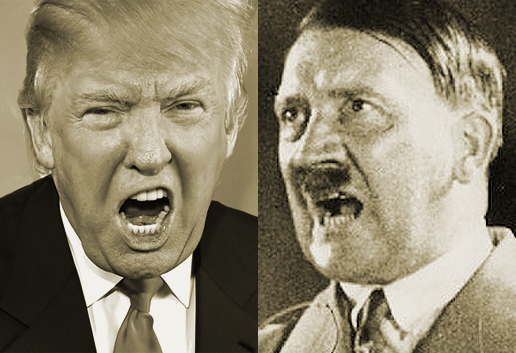 Yesterday, I had a conversation with a very bright young man (pursuing his Ph.D. in Chemistry with a minor in German History, especially WWII, at Brown University) and I asked him pointedly if the Trump comparisons to Hitler were fair or just overblown rhetoric. He stated that not only were the similarities spot on, but the demagoguery is carbon copy. The good news is that for Trump to actually become a "Hitler-type" genocidal maniac would be virtually impossible for these reasons: 1. Though flawed, this country truly is a liberal democracy with all the checks and balances in place (congress, judiciary, media, etc.) 2. The U.S. is basically just too divided for him to pull off some sort of crazy majority rule. 3. Although many think that our economy is bad, Germany's economy was unfathomably far worse (because instead of rebuilding Germany after WWI, we forced them to pay back reparations).  4. Trump would have to abolish the entire Constitution and establish a dictatorship, which is just not going to happen today in the United States – 2017. But having said that here is an uncanny laundry list of parallels:
1.     Both Trump, now, and Hitler, in the 1930's, were viewed by most of the world as cartoonish caricatures of buffoonery. Nobody initially took Hitler seriously.  Remember Charlie Chaplain played Hitler in the satirical film 'The Great Dictator'.  And well we now have SNL's Alec Baldwin's Trump impression… German historians still marvel at how Germany could have fallen for such a foolish man with a funny mustache. And we…well
2.     Both have their scapegoats: Hitler – Jews and communists and Trump – Mexicans and Muslims.
3.     Both EXTREME Nationalists i.e. Hitler – restore Germany to its prior greatness and Trump's "Make America Great Again.'
4.     Both monomaniacally petty and vindictive.
5.     Both obsessed more with perception as opposed to facts and reality. Propaganda and lies are & were essential.
6.     Delusions of grandeur. Hitler believed as Trump now believes that they are the only human beings on the planet who could and would be able to "fix things. "Both demonize[d] "others" i.e. immigrants. (Exception for Trump is beautiful leggy East European super-models).
7.     Both obscenely vain, selfish, self-involved, and narcissistic.
8.     Both pursue[d] their twisted agenda even if it means/meant total self-destruction to themselves and to the nation as a whole.
9.     Both love[d] the maniacal adulation of the fanatics.
So there you go – 9 compelling similarities (I could probably think of more). One may ask – do you think Trump is actually genocidal and homicidal? My personal opinion is that if he's confronted with an EXTREME situation (say a 9/11 event), I think he's capable of unspeakable behavior and yes, atrocities.  WhaDaYaThink? What do you think? I pray for impeachment asap.